Winter Storms
A winter storm is an event in which varieties of precipitation are formed that only occur at low temperatures, such as snow or sleet, or a rainstorm where ground temperatures are low enough to allow ice to form (i.e. freezing rain). In temperate continental climates, these storms are not necessarily restricted to the winter season, but may occur in the late autumn and early spring as well. Very rarely, they may form in summer, though it would have to be an abnormally cold summer, such as the summer of 1816 in the Northeastern United S
Winter Weather Basics
tates.
A winter storm is an event in which the main types of precipitation are snow, sleet or freezing rain.
Why can winter storms be so dangerous?

Most deaths from winter storms are not directly related to the storm itself.

People die in traffic accidents on icy roads.
People die of heart attacks while shoveling snow.
People die of hypothermia from prolonged exposure to cold.

Everyone is potentially at risk during winter storms. The actual threat to you depends on your specific situation. Recent observations show that:

Of injuries related to ice and snow:

About 70% occur in automobiles.
About 25% are people caught out in the storm.
Majority are males over 40 years old.

Of injuries related to exposure to cold:

50% are people over 60 years old.
Over 75% are males.
About 20% occur in the home.

How do winter storms form?

Just like any other storm at other times of the year, the right combination of ingredients is necessary for a winter storm to develop.

Three basic ingredients are necessary to make a winter storm:

Cold air.

 

Below freezing temperatures in the clouds and near the ground are necessary to make snow and/or ice.
Lift.

 

Something to raise the moist air to form the clouds and cause precipitation. An example of lift is warm air colliding with cold air and being forced to rise over the cold dome. The boundary between the warm and cold air masses is called a front. Another example of lift is air flowing up a mountainside.
Moisture.

 

To form clouds and precipitation. Air blowing across a body of water, such as a large lake or the ocean, is an excellent source of moisture.
How do blizzards form?
A blizzard is a long-lasting snowstorm with very strong winds and intense snowfall. You need three things to have a blizzard; cold air at the surface, lots of moisture, and lift. Warm air must rise over cold air.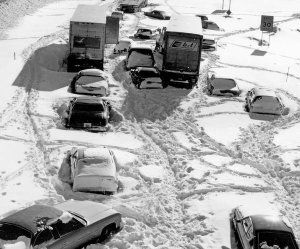 What are snowflakes?Snowflakes are made of ice crystals. Each snowflake is six-sided and made of as many as 200 ice crystals. Snowflakes form in clouds where the temperature is below freezing. The ice crystals form around tiny bits of dirt that has been carried up into the atmosphere by the wind. As the snow crystals grow, they become heavier and fall toward the ground
Why is snow white?
Bright snow blinds us with its gleaming white color because it reflects beams of white light. Instead of absorbing light, snow's complex structure prevents the light from shining through its lattice formation. A beam of white sunlight entering a snow bank is so quickly scattered by a zillion ice crystals and air pockets that most of the light comes bouncing right back out of the snow bank. What little sunlight is absorbed by snow is absorbed equally over the wavelengths of visible light thus giving snow its white appearance. So while many natural objects get their blue, red, and yellow colors from absorbing light, snow is stuck with its white color because it reflects light.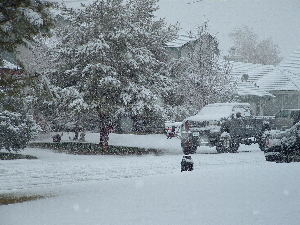 Winter storms create a higher risk of car accidents, hypothermia, frostbite, carbon monoxide poisoning, and heart attacks from overexertion. Winter storms and blizzards can bring extreme cold, freezing rain, snow, ice, and high winds. A winter storm can:
Last a few hours or several days;
Knock out heat, power, and communication services; and
Place older adults, young children, and sick individuals at greater risk.
IF YOU ARE UNDER A WINTER STORM WARNING, FIND SHELTER RIGHT AWAY
Stay off roads.
Stay indoors and dress warmly.
Prepare for power outages.
Use generators outside only and away from windows.
Listen for emergency information and alerts.
Look for signs of hypothermia and frostbite.
Check on neighbors.